When it comes to providing a complete experience, details count. Below are some helpers to assist you with useful information to make your stay as pleasurable as possible. If you have any further questions, please don't hesitate to contact us.
The House rules?
Welcome to our home!
We hope that you create wonderful memories here. In this booklet, you'll find the house rules that have been put in place for your safety as well as ours. We truly appreciate your cooperation!
Please note that adhering to these rules is a requirement of the terms and conditions of our rental agreement.
We reserve the right to evict any guests or visitors who refuse to follow these house rules. The violation of house rules may result in deductions from the security deposit or other penalties.
General requirements
Check-in is at 14:00
A €25 charge will be added to your booking for lost or stolen keys.

It's Strictly prohibited to enter the condominium before official check-in with the property host. Even if the metal gate is open. Please do not press the other doorbells, and wait for the host to arrive. Not abiding by this, is an infringement of the property rules and may result in an immediate cancellation without a refund

The internal courtyard accessible from the hallway is not our property and is off-bounds.
Parking
Guests and visitors should comply with the parking regulations and requirements. Please show consideration to other vehicles in the neighborhood.
Parking arrangements are as follows:

Parking 'Via Gezio Calini': €2.50/hour (maximum 120 minutes)
Parking 'Goito' : €1.50/hour (maximum 180 minutes)
Parking 'Via Spalti San Marco' : €1.20/hour or €5/day
Parking 'Arnaldo': €1.00/hour or €6/day
Parking 'Autosilo': €1.70/hour or €9.10/day

There are unattended pay-parking spaces outside the flats, or at the nearby Goito Parking.
Please use the pay meters. Be careful not to enter the ZTL (Limited Traffic Zone) areas with your cars, as you will receive a fine.
If you wish to have attended parking you can park your car at the Autosilo or the Piazza Arnaldo underground car park area.
Visitors & Noise
No unregistered guests or visitors are allowed. Please provide at checkin your full ID/PASSPORTS.
The maximum property capacity is 3 people per studio flat.
* A €12 charge will be added for every extra guest.
Parties and gatherings are strictly prohibited.
Please be considerate of our neighbouurs. Quiet time is from 10.15 pm
till a.m. Please refrain from making noise during that time.
Child Safety
Our home is suitable for children under the age of 2.
Parents must not leave children unsupervised and are fully responsible for their safety at all times.
Pets
Pets are not permitted in the house.
Safety & Energy Saving
Close the windows and lock the door when leaving the premises.
Please remove/turn off electrical appliances when not in use.
Please do not waste water
Leave the temperature of the central heating as it's set.
Please use the free Wi-Fi considerately. It's strictly prohibited to download/view illegal software, videos, or pornographic material. Any infringements will be reported to the local authorities. We decline any responsability of such actions.
Smoking
Smoking is not allowed in the property.
Failure to adhere to this rule will result in a deduction from the security deposit.

Damages/Breakages & Theft
Please report any damages, breakages, or malfunctioning equipment immediately so that we can repair or replace them.
Please refrain from moving furniture around to avoid any damages or breakages.
The cost of any damages or breakages caused by negligence may be deducted from your security deposit.
Each flat is fully equipped with articles and equipment. These are to remain in the flat. Any articles taken away will be deducted from your safety deposit.
If you finish consumable products (cleaning liquids, coffee, olive oil etc) please replace them with a new article for our next guests. Otherwise, according to the severity of the lack of respect, these could be deducted from your damages deposit.
In the case of severe damage found after checkout and not reported, a formal report will be made with the local police.
Cleaning & Maintenance
No eating or drinking on the beds.
No barbecues or loud music (that causes disturbance to neighbours) in the Cidneo external patio area.
Wash the dishes and throw out the rubbish before checkout, alternatively, a €50 cleaning fee will be added to your booking.
Turn off any electronics when you leave the house.
Rubbish and recycling arrangements are as follows:
– Every Wednesday Plastic and Paper is to be left in the correct liners outside the condominium
– Biowaste is to be placed in the brown rubbish bin in a biodegradable liner. Glass and metals are to be placed in the correct rubbish bin. Both are to be disposed of in the appropriate council rubbish bins using the blue identity cards provided at the entrance of each flat (that must be returned)
Check-out Instructions
Check-out time is at 10
The instructions for checking out and key handover are: Please advise us the day before the time of your departure. If you wish to check out yourselves, please close the property (locking the door) and put them through the letterbox (next to the lift) named 'CHAMBERS'
If you have any questions, concerns, or need to notify us of anything, you may contact us at:
+39 3471271745 or help@bresciaholidayhouse.it
I am having trouble with the front gate. Useful tips
The 2 studio flats are located in the Calini/Moretto Condominium. With atmospheric changes, sometimes the front gate seems to be a bit difficult to open with the keys supplied. Here is a short video explaining how to work the old lock better. In case you are in difficulty, please don't hesitate to contact me as soon as possible.
Where to Park?
Click on the following link to find out more
https://www.bresciamobilita.it/en/parking/parkings
The only free Parking places can be found within a short walk of 5-10 minutes from the flats.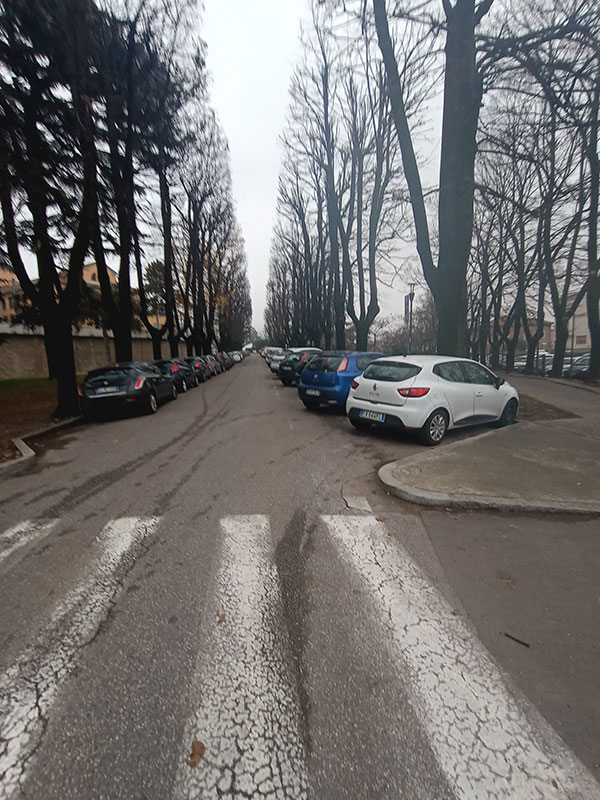 Instructions on how the folding beds work in the flats?
Brixia
Cidneo
Instructions on how the electrical appliances work in the flats?
Brixia Flat
Chrome Cast
If you wish to use the Internet, 'Chrome cast TV'.
Is there free internet? How to do i log on?
Yes there is a high-speed internet connection in both flats. Downloading illegal software, pornography in any form whatsoever, and movies from illegal sources (especially torrent services) is strictly prohibited. This will be reported immediately to the authorities.
Wifi Id: FASTWEB-EUA6TS
Password: Please ask at check-in or send us a message.
Help the electricity has gone! What to do next …
Please first check that the circuit breakers beside the entrance door are all on the up/on position.
On your keys you will find an extra black key. Exit the flat and turn left. Past the lift there are some stairs that go down towards the garage. You will see a glass door. Open that and then go to the end of the garage.
Open the left-hand side wooden cabinet, and make sure that the lower circuit breaker 'CHAMBERS' is not on 'off', but is switched upwards to 'on'. Also, check the above 'CHAMBERS' meter is not on 'off' but is switched upwards to 'on'.
* If you are still stuck, please send us a WhatsApp message or call us on +39 347 1271745
When to put the recycled paper and plastic rubbish outside?
Every Wednesday evening after 19.30.
The Emergency numbers?
112
Doctor visits for tourists?
This is the new number of the Continuity Assistance (former medical guard) which responds from Monday to Friday from 8pm to 8am, while on Saturdays, Sundays and holidays it is operational 24 hours a day.
tel. 116117
The nearest Supermarkets?
SIMPLY supermarket
COOP supermarket
ALDI supermarket
The nearest Mechanics?
Autoriparazioni Guerrini
tel: 030 377 4520
I want to order a take-away home delivery
Below are the easiest door-to-door services. You just need to register to the following apps and make your order:
Best areas for aperitivo
Piazza Arnaldo
Corso Magenta
Piazza Duomo
Piazza Loggia
Useful City links
https://www.bresciamobilita.it/en/metro/the-brescia-subway
How to get to the lakes?
https://www.bresciatourism.it/en/visit-brescia/lake-garda/
https://www.bresciatourism.it/en/visit-brescia/lake-iseo-franciacorta/
https://www.bresciatourism.it/en/visit-brescia/lake-idro-sabbia-valley/
How to reach the mountains quickly?
Discover the wines of Brescia
https://www.entevinibresciani.it/
https://franciacorta.wine/en/
How to contact us?
Tel/whatsapp: +39 347 1271745
Email: help@bresciaholidayhouse.it
Address: 'CHAMBERS' Via musei 95, Brescia 25121